Overview
Overview
2400 Range Wall Tie
The 2400 Range wall Tie is designed with a triple holed end pattern, removing the risk of injury and improving adhesion to the mortar. A flat bar on the opposing side is designed to be used with our debonding sleeve which has a unique viewing window ensuring a 10mm gap for expansion and movement can be achieved.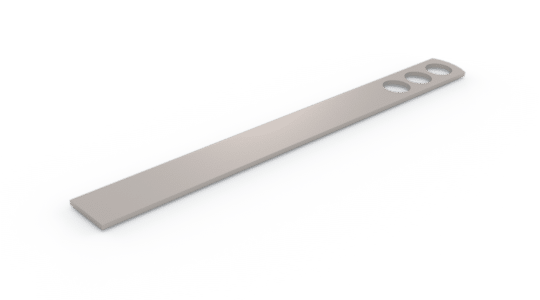 Details
Details
This design allows the 2400 range wall tie to resist lateral loadings whilst still allowing contraction and expansion of the masonry panels, reducing the risk of cracking
The 2400 Range wall tie is available in any length from 150mm to 300mm, in 25mm increments. Although ACS offer standard lengths of the 2300 wall tie, available in stock, we can manufacture bespoke lengths to suit your requirement or specification
All wall ties are inspected during and after their manufacture, as an additional safety feature we perform a final finishing process which sees the ties rumbled to ensure all sharp edges are removed
ACS also offers a 'Design a Tie' service, using the 2400 range wall tie as a base, you can design it to your own specification and requirement.