Overview
Overview
3100 Range Frame Cramp
The ACS 3100 range wall tie's design is for use in either conventional or thin bed joints and are available in a variety of lengths to suit most applications.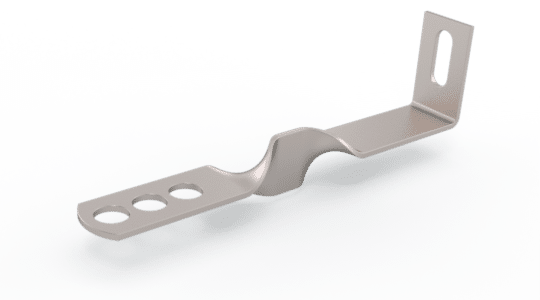 Details
Details
ACS supply the 3100 Range Frame Cramp with a 3-holed safety end for bonding into the mortar. This also comes along with a vertical twist to prevent moisture from crossing the cavity and a vertical slot in the upstand to allow adjustment when fixing.
All wall ties are inspected during and after their manufacture, as an additional safety feature, we perform a final finishing process which sees the ties rumbled to ensure all sharp edges are removed.
ACS also offers a 'Design a Tie' service, using the 3100 range frame cramp as a base, you can design it to your own specification and requirement.
Technical Data
The performance of frame cramps is determined by the position of the fixing. At the lowest point of the slot, the frame cramp will have a safe working load of approximately 1.0kN. As the fixing position alters the capacity of the tie will reduce. ACS recommends using oversize washers with the fixing when installing cramps with a vertical slot.