Overview
Overview
Azure II™ Special Soffits
A1 Non-Combustible Specialist Brick-Faced Soffits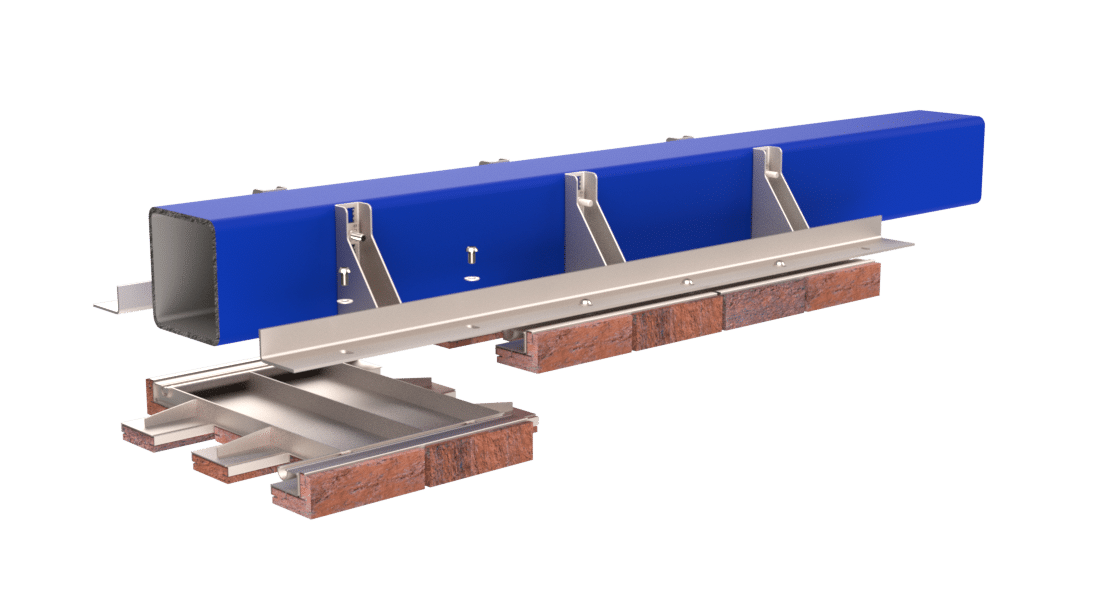 Details
Details
Our Azure II™ Special Soffit Units are the UK's first A1 non-combustible brick-faced soffit system. This industry-leading classification means that the Azure II™ will not contribute or react to fire.
Surpassing today's regulations, the Azure II™ Special Soffits effectively future-proof your construction projects. They also come with a lifetime guarantee (minimum of 60 years), giving them the longest workable lifespan of any load-bearing brick system on the market today.
These specialist soffit units course in with brickwork to provide continuity with the stretcher/running bond pattern as it returns into the soffit on the underside of a beam or masonry support downstand.
Adjacent Azure II™ units are designed to interlock and provide seamless continuity between one section and the next, giving you the power to design, create and bring to life soffit features and details of any size and scheme.
---
A1 – The Ultimate Fire Protection

Azure II™ is the only A1 non-combustible brick-faced bolt up and lintel system on the market. This unrivalled classification means the Azure II™ will not contribute to or react when exposed to a fire.

Quality Assured, Lifetime Guarantee

With a lifetime guarantee (minimum 60 years), the Azure II™ has the longest workable life span of any load-bearing brick slip soffit system available. And as a mark of its quality, the Azure II™ is certified by the British Board of Agrément (BBA)

Reduced Building Costs

The Azure II™ is 90% faster to install than traditional handset brickwork. Couple that with ACS' unrivalled lead times and you have a prompt delivery promise and a quick installation process, saving you both time and, importantly, money.

On-Site Adjustability

A fully mechanically fixed system, the Azure II™ allows for multiple adjustments to be made on-site and also gives installers the safety net of being able to replace damaged bricks before final install.

Environmentally Friendly & Sustainable

Azure II™ is manufactured from 85% recycled stainless steel and is free from any resin, cementitious and oil-based product. Due to this, Azure II™ can be used in sustainable construction projects and is fully recyclable.

Superior Strength, Superior Safety

Made out of Grade 304-stainless steel, the Azure II™ is 30% stronger than resin-based alternatives. And, being a resin-free system, it offers improved safety throughout the lifetime of the product.
KEY BENEFITS
A1 Non-Combustible
BBA Certified
Minimum 60 Year Design Life
Factory Assembled
Patent Pending Design
Fast Installation
100% Resin and Adhesive Free
30% Stronger Than Resin-Based Systems
100% Mechanical Fix
Unrestricted by Height
Fully Adjustable On-Site
Recyclable
Made from 85% Recycled Stainless Steel
304 Grade Stainless Steel
Suitable for Sustainable Construction