Overview
Overview
C Type Windpost
C Type windpost to sit within the cavity and eliminate the need for cutting blockwork.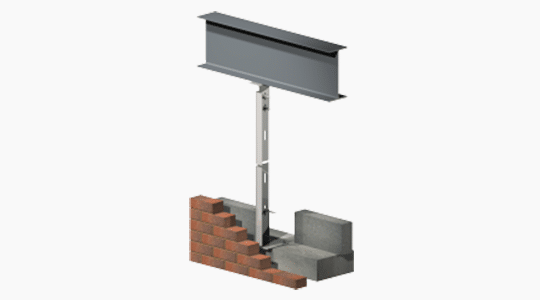 Details
Details
The ACS C Type windpost bolts to the structure with suitable fixings.
Furthermore, the use of WPT1 clip on ties to both the external & internal leaf transfer the loadings applied to the cladding back to the structure.
Design
Windpost sizes may or may not be known depending on the status of the project. The tables shown for the C Type Windpost detail typical section sizes to aid design, however, to ensure the most economical section is specified please liaise with our dedicated sales team
The following tables illustrate the typical sizes available; however, almost any size can be designed / manufactured.
C Type Windposts:
Windposts are designed as simply supported beams. Maximum deflection is height/360 and maximum stress is 191N/mm2
Section
Ixx
Zxx
2.5m
3.0m
3.5m
4.0m
4.5m
5.0m
5.5m
6.0m
a x b x t
cm 4
cm3
Maximum factored load fo height of windpost (UDL) kN
55x60x4
32.05
11.66
3.3
2.3
1.7
1.3
1.0
–
–
–
55x60x5
37.37
13.59
3.8
2.7
2.0
1.5
1.2
1.0
–
–
65x60x4
47.18
14.52
4.8
3.4
2.5
1.9
1.5
1.2
1.0
–
65x60x5
55.43
17.06
5.7
3.9
2.9
2.2
1.8
1.4
1.2
1.0
75x60x4
65.71
17.52
6.7
4.7
3.4
2.6
2.1
1.7
1.4
1.2
75x60x5
77.65
20.71
8.0
5.5
4.1
3.1
2.5
2.0
1.6
1.4
85x60x4
87.86
20.67
9.0
6.2
4.6
3.5
2.8
2.2
1.9
1.6
85x60x5
104.30
24.54
10.7
7.4
5.4
4.2
3.3
2.7
2.2
1.9
95x60x5
135.63
28.56
13.9
9.6
7.1
5.4
4.3
3.5
2.9
2.4
105x60x5
171.91
32.75
16.5

12.2
9.0
6.9
5.4
4.4
3.6
3.1
115x60x5
213.39
37.11
16.5
15.2
11.1
8.5
6.7
5.5
4.5
3.8
115x60x6
245.40
42.68
16.5
17.5
12.8
9.8
7.8
6.3
5.2
4.4
115x65x8
322.03
56.01
16.5
19.5
16.8
12.9
10.2
8.2
6.8
5.7
C Type Parapet Posts:
Parapet and spandrel posts are designed as fixed base cantilevers. Maximum deflection is height/180 and maximum stress is 191N/mm2
Section
Ixx
Zxx
0.8m
1.0m
1.2m
1.4m
1.6m
1.8m
2.0m
a x b x t
cm 4
cm3
Max factored load for height of parapet post (UDL) kN
55x60x4
32.05
11.66
4.5
4.3
3.0
2.2
1.7
1.3
1.1
55x60x5
37.37
13.59
4.5
5.0
3.5
2.5
1.9
1.5
1.2
65x60x4
47.18
14.52
4.5
5.5
4.4
3.2
2.5
1.9
1.6
65x60x5
55.43
17.06
4.5
6.0
5.1
3.8
2.9
2.3
1.8
75x60x4
65.71
17.52
4.5
6.0
5.6
4.5
3.4
2.7
2.2
75x60x5
77.65
20.71
4.5
6.0
6.6
5.3
4.0
3.2
2.6
85x60x4
87.86
20.67
4.5
6.0
6.6
5.6
4.6
3.6
2.9
85x60x5
104.30
24.54
4.5
6.0
7.5
6.7
5.4
4.3
3.5
95x60x5
135.63
28.56
4.5
6.0
7.5
7.8
6.8
5.6
4.5
105x60x5
171.91
32.75
4.5
6.0
7.5
8.9
7.8
6.9
5.7
115x60x5
213.39
37.11
4.5
6.0
7.5
9.0
8.9
7.9
7.1
115x60x6
245.40
42.68
4.5
6.0
7.5
9.0
10.2
9.1
8.1
115x65x8
322.03
56.01
4.5
6.0
7.5
9.0
10.5
11.9
10.7