As a company with long-standing links to the Armed Forces community and a proud employee of former servicemen and women, ACS has taken the step to formalise that relationship by signing the Armed Forces Covenant.
Those that sign the Covenant acknowledge and understand that those who serve or who have served in the Armed Forces, and their families, should be treated with fairness and are treated fairly.
Tony Higson, Commercial Director, said: "As a former serviceman myself, I am delighted to sign the Armed Forces Covenant on behalf of ACS Stainless Steel Fixings.
"At its heart, ACS is a family business, and that family extends to the Armed Forces community. We have a proud history of employing, supporting and aiding servicemen and women.
"Signing the Covenant is the first step of many for ACS. We are working hard across all levels of the company to be in a position to formally join the Employer Recognition Scheme (ERS), intending to achieve the Silver Award."
To become a signatory, ACS made several pledges that help the aims of the Covenant, including (but not limited to):
Supporting the employment of veterans of all ages, working with the Career Transition Partnership (CTP) and engaging Service Leavers

Supporting the employment of Service spouses and partners, and those who wish to become members of the Reserve forces

Offering support to local cadet units
In signing the Covenant, ACS joins over 6,000 UK businesses in pledging to support those that have served and the families of servicemen and women.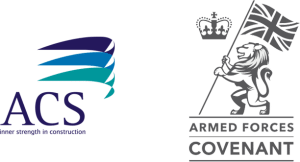 Related Articles
---


Article originally published on 16th February 2021