When you buy the extensively tested Framefix Ultra direct from ACS, you're getting more than just a high-strength, adjustable fixing channel.
You're also gaining access to:
The largest stock availability here in the UK,
A team of technical engineering experts with a deep understanding of the product,
The most technically advanced screws and accessories that function flawlessly with the Framefix Ultra system.
What's more, we offer FREE UK delivery with no minimum order quantity, so you can get exactly what you need, precisely when you need it, offering stable competitive pricing.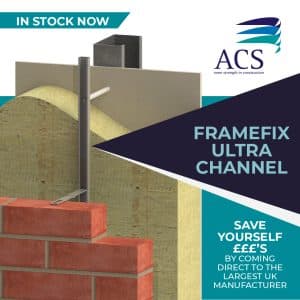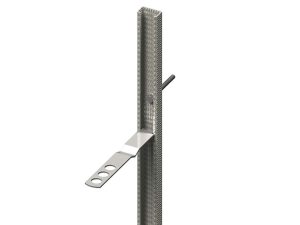 Where quality and versatility meet
The Framefix Ultra has been specifically designed and tested to provide our customers with a versatile and unrivalled solution to ensuring building stability.
First and foremost, this lightweight and innovative product works with a range of fixing methods, façade options, and insulation types.
This includes:
A light steel frame through mineral wool.
A light steel frame through rigid insulation boards.
A concrete frame through all insulation types.
Beyond this versatile range of uses, the Framefix Ultra system also guarantees flexibility for each individual project. This is thanks to:
The channel being supplied in 2700mm lengths, which you can easily cut and adapt on-site.
The ability to position wall ties at any point along the channel to suit the coursing of the masonry panel.
If, like hundreds of other contractors across the UK, you're sold on the performance of the Framefix Ultra with a range of performance-enhancing benefits – then get in touch.
To find out more about the Framefix Ultra Channel, head over to our product page or speak to our friendly sales team, who are on hand to advise and assist with the specification of this product.
? 0844 850 0860
? info@acsstainless.co.uk
Article originally published on 14th February 2022