New BRICKWORK MASTERCLASS
The Association of Brickwork Contractors has launched a fully funded brickwork masterclass in conjunction with the NHBC and the CITB.
Working together to improve standards across the building sector, the ABC, NHBC and CITB have secured funding from the Home Building Skills Partnership (HBSP) who are committed to improving knowledge and skills within the industry.
The Brickwork masterclasses are part of a wider initiative focusing on the following build stage areas – Cavity trays, Insulation, Weep holes and Fire stopping.
Overall, the sessions will provide guidance on the most common issues found by inspection and claims teams allowing your tradespeople to become masters in key areas of good practice. With brickwork remedial work on housing becoming increasingly costly and with a focus to complete sites on time ever critical, these masterclasses are designed to be concise and add value to your organisation at very little cost.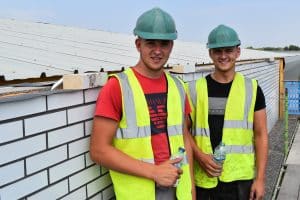 The brickwork masterclasses are aimed at those working in bricklaying or bricklaying supervisor roles. Designed to be concise, delivered on or near a site at a time that suits your tradespeople, and are also fully funded. Courses are professionally presented by NHBC and are available to book at a number of locations across the country. To book a place now or to arrange training at a site that suits you, visit www.nhbc.co.uk/brickwork
ACS is an active associate member of the ABC, we fully support their endeavour to improve standards and build quality. We understand the difficulties tradespeople come across on site and in the ever-changing construction industry.
Related Articles
---
Article originally published on 29th January 2019