How to install a wall tie
Wall ties should be evenly distributed at 2.5 ties per square metre and staggered between courses.
At vertical edges of an opening, unreturned or unbonded edges, and vertical expansion joints, additional ties should be placed at a rate of one per 300mm in height and located not more than 225mm from the edge.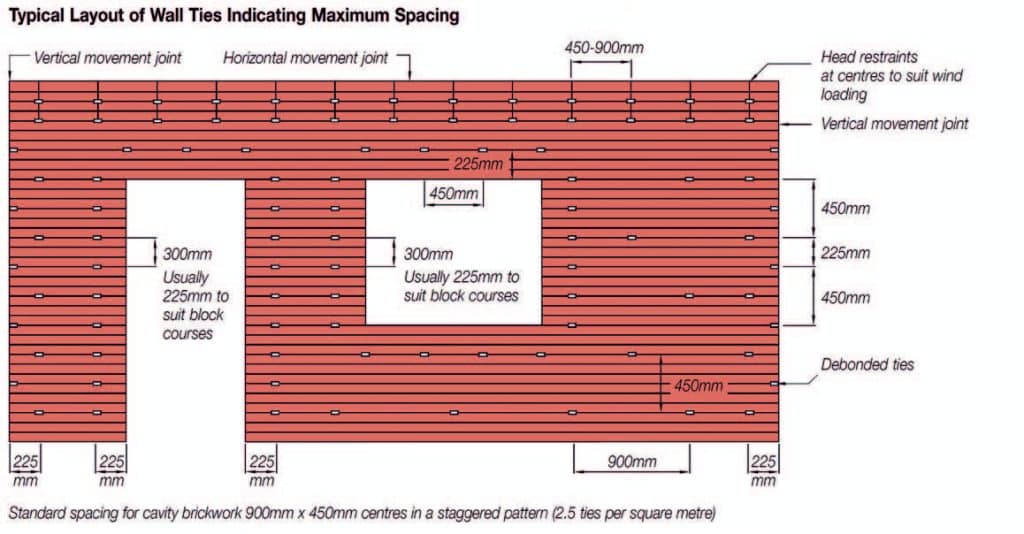 Leaf

Thickness

Cavity

Width

Spacing

of Ties

Ties/

m2 Ties

<90
50-75
450 – 450
5.0
90>
50-150
900 – 450
2.5
Correct Embedment of Tie
Insufficient embedment of wall ties in the mortar joints of masonry cavity walls compromises wall tie performance and could lead to the collapse of walls. British Standards suggest a minimum embedment of 50mm, however, ACS recommends 62.5mm to allow for site tolerances. Drip features on a wall tie should be placed at the centre of an open cavity. Both leaves of the cavity wall should be built simultaneously to eliminate any risk of injury from protruding ties. Wall ties should always be pressed down firmly into fresh mortar, be fully surrounded and have a slight fall towards the outer leaf to avoid damp. Ties should never be slid into a joint. The bending of installed wall ties should be forbidden at all times as this affects the performance of the tie and weakens the embedment in the inner leaf.
Critical Quality Issues
To achieve the required performance criteria under wind loading, wall ties must be installed:
To correct specification
To correct spacing
Within the correct cavity size
Within specified tolerances
With adequate embedment lengths
With insulation retaining clips compatible with your tie. Movement control joints must be constructed
With compressible joint fillers that actually compress
With sealant that meets the specification
With soft joints, where specified
ACS Stainless Steel Fixings Ltd only manufacture Wall Ties from prime grade 304 or 316 stainless steel. Cavity Wall Ties should be stainless steel to prevent corrosion, inferior raw materials/grades would not be recommended when selecting products for use in the UK
Health & Safety
Full PPE must always be used.
When working near metal objects like Wall Ties the use of eye protection, gloves and long-sleeved shirts must be stressed. The risk of cuts etc is a particular hazard around metal objects such as Wall Ties, Masonry Support, Windposts, Lintels and Scaffold. To help eliminate the risk of injury on site, all ACS cavity wall ties feature safety ends. Wherever possible, it is advised that both leaves of a cavity wall are built simultaneously to eliminate the risks associated with protruding ties. Site managers should make all workers and visitors aware of this risk.
Article originally published on 30th October 2018