Hilary Benn, Leeds Central MP and Labour politician, visited the ACS Stainless Steel facility in Leeds, on Friday 21st April. His visit encompassed a tour of the purpose-built sustainable factory, and an introduction to many of the office staff that contribute towards the success of the company.
Hilary Benn Visits ACS
As a company that champions innovation, He acknowledged that ACS has established a reputation for reinvesting its profits back into product research and development to create new products that can be used by developers looking to create high-rise structures, that meet the fluid challenges of Government legislation. Mr Benn was given a good insight into our ground-breaking work in the construction industry, and how we offer the best and safest range of products and services to our customers.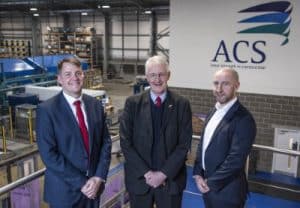 Admiring the award-winning work of ACS, Mr Benn said: "It was a pleasure to visit and see a strong and innovative business contributing to UK manufacturing, here in Leeds Central."
Hilary Benn accompanied the Board of Directors for lunch, in the afternoon. He was briefed about how ACS is passionate about the research and development of patented innovative solutions, and how the company is always striving to maintain it's position as the most sustainable business in it's sector.
The Managing Director at ACS, David Flannery added: "It has been a privilege to welcome Hilary to the business today and to introduce him to the many people who work hard to make it the success it is."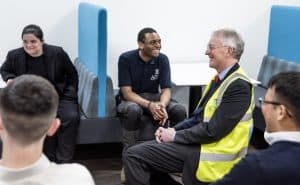 The Apprentices at ACS were given an opportunity to sit down with Hilary Benn and talk about their career journey, whilst discussing their future progression goals at the company. Mr Benn was impressed with meeting these young, enthusiastic individuals, and commented: "ACS is developing impressive new technologies and is committed to creating jobs for local people and training opportunities, particularly for younger people who are looking for a career in this important and exciting sector."
We will soon be recruiting for our next cohort of new apprentices. Keep an eye on our Careers page for details.
Article originally published on 25th April 2023