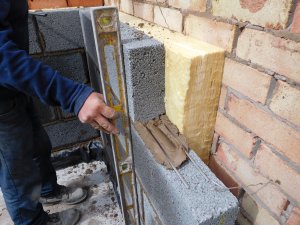 Where building loads create deflection forces, even the most durable structure is prone to cracking if flexural strength is exceeded.
So, what can be done to help prevent this?
Apollo II is a certified and tested masonry reinforcement product, designed specifically to increase the flexural and tensile strength of masonry walls. 
Manufactured in stainless steel, this high-quality solution allows for maximum coverage, high bond strength, and ultimate peace of mind.
Designed to be stronger
Apollo II is the masonry reinforcement of choice for major brickwork contractors thanks to two unique design features; the flattened, ribbed profile and in-line welded cross wires.
Profile – The unique, flattened, and ribbed main structural wires help to improve bond performance, compared with traditional smooth wires, This allows for maximum coverage and anchorage.
Wires – The Apollo II's cross wires, which are sized at 2.75mm diameters, are welded in-line to avoid steel build problems and to create a very robust and durable reinforcement strip. By welding the cross wires in-line, this creates  a flat profile and allows for more space in the bed joint for wall ties where required.
When combined, these unique design features are responsible for the Apollo II's improved performance – where the bond strength is up to 90% stronger than others on the market.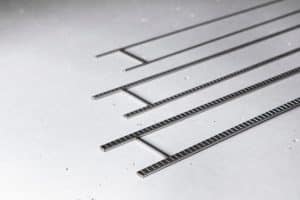 Designed to be more effective
Beyond its increased strength, the high-performing Apollo II comes with a host of additional advantages. This includes both structural and movement control applications.
Increased wind loading – the requirement for wind posts is reduced thanks to the increased load capacity of façade walls.
Improved vertical loading – Apollo II can be used to create reinforced masonry beams for lintels above openings.
Stress and shrinkage movement reduction – Apollo II provides structural reliability by assisting in controlling any movement in vulnerable locations.
Reduced cracking– cracks caused by thermal movement can also be controlled by increasing the distances between movement joints. Apollo II will help to prevent cracking, if there is movement or settlement within the structural building.
Designed for different uses
High-performance shouldn't mean limited uses. To ensure that Apollo II can be utilised on a range of projects across a number of applications, it is available in:
Stainless steel – making it suitable for use in most external applications.
5 different main wire diameters – 3.0mm, 3.5mm, 4.0mm, 4.5mm, and 5.0 mm.
4 product widths to suit UK brick and block sizes.
2.7m long strips with 20 strips per pack.
To find out more about Apollo II, speak to a member of our friendly sales team.
? 0844 850 0860
? info@acsstainless.co.uk
Article originally published on 3rd December 2021