Atlas Masonry Support

Atlas Support is an off the shelf adjustable masonry support solution for modern construction. Fully adjustable on site, Atlas is an excellent alternative to traditionally welded masonry support. The flexible design allows for site tolerances and changes in the facade design without additional cost.
Below are some popular Atlas Support configurations, full product specification and CAD downloads can be found on each page.
Speak to our technical department for assistance with the specification and design of your facade package
---

Off-the-shelf masonry support for
modern construction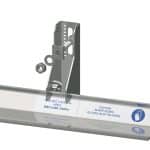 As clients and main contractors take a more proactive approach to design and value engineering, traditional welded masonry support systems are increasingly struggling to deliver the flexibility and adaptability required by modern fast-track projects. Conventional welded systems simply do not allow for on-site
adjustment or accommodate variations in cavities and loads, and the smallest of changes can make an entire system obsolete. These bespoke systems often require a lengthy approval process, take longer to manufacture and are often more expensive to install. This, coupled with a need for fast, flexible construction, Has led ACS to develop a revolutionary alternative.
Front-loading for effortless installation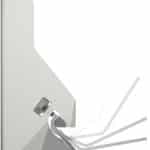 For ease of use, Atlas has been designed with a patented front-loading bracket and separate 'clip-in' angle. This allows it to be easily fitted and adjusted by only one non-specialist construction worker, reducing
labour costs to a minimum and ensuring considerable time savings. For added convenience, Atlas angles are supplied in easy to handle 1000mm** lengths. A standard front-loading corner system,
comprising of two 45 degree mitred angles and three brackets per angle is available from stock. An innovative self-encapsulated design with fewer components also means fewer tools are required for installation – minimising the risk of losing equipment or components down the cavity.
** May differ on 14kn or above
Atlas: the fast, flexible alternative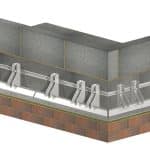 Atlas is a patented off-the-shelf masonry support system designed and manufactured to meet the demands of modern construction projects. Engineered specifically to support the external masonry facades of concrete and steel structures, it is cost-effective, convenient and is designed to accommodate for cavities ranging from 60 to 150mm,
and loads of up to 14kN*. As an off-the-shelf system, Atlas brackets and angles are interchangeable, can be easily moved around site and require no setting out or detailed layouts.
* 14kN + systems also available as a special order
The Atlas Advantage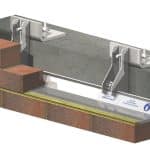 Supplied from stock
Non-project specific
Fast and simple to install
Easily assembled by one person
Revolutionary front-loading system
Highly adaptable and adjustable
The simple online specification process
Easy to store and transport