Azure II – A1 Fire Rated Brick Slip Systems
---
Azure II is the only A1 fire rated brick slip soffit system.
Surpassing All Others,
Azure II – The Market-Leading Brick Slip System
Why compromise on safety when you can be sure you are using the safest and strongest brick slip lintel and soffit system on the market.
AZURE II – SAFEST Solution Available
The ONLY A1 Fire Rated Brick Slip Soffit System
Designed by Industry Experts
Azure II A1 fire rated brick-faced soffit systems have been designed by ACS, the leading manufacturer of structural building support and components. Product safety is our number one priority, ensuring our products are as safe as possible, throughout their entire lifetime and in extenuating circumstances such as fire.
Collaborating with industry experts, we have produced Azure II with the construction industry in mind. Each manufacturer and installer wanted to mitigate all risk factors, this lead us to provide a 100% mechanically fixed, resin-free, A1 fire rated system – The first of its kind.
Design and Testing
Azure II has undergone rigours testing, surpassing industry requirements to ensure its future validity. Azure II has successfully achieved A1 fire rated status, The ONLY Brick Slip System on the market to achieve this.
A Bespoke Solution
Azure II is designed to your exact specification and requirement. The adjustable system can easily accommodate on-site tolerances this ensures a seamless brick soffit or reveal without unsightly joins which create a 'patchwork' effect.
A SAFE and Functional SolutionI
ACS have produced the safest Brick Faced Soffit System on the market, its 100% mechanically fixed, the resin-free system removes any possibility of the system contributing to or being affected by fire. The resin-free system is 30% stronger than resin-based systems and the innovative fixing system allows for on-site adjustability – ensuring a perfect fit every time, unlike resin systems which are fixed in place off-site.
Product FeaturesII™
• A1 Fire Rated
• Fully Warrantied and Indemnified
• Lifetime Guarantee
• Patent Pending Design
• Fast Installation
• Resin Free
• Adjustable on-site – Patchwork Free
• 30% Stronger than Resin Based Systems
• Uses any type of brick
• 100% Mechanically Fixed
• Unrestricted by Design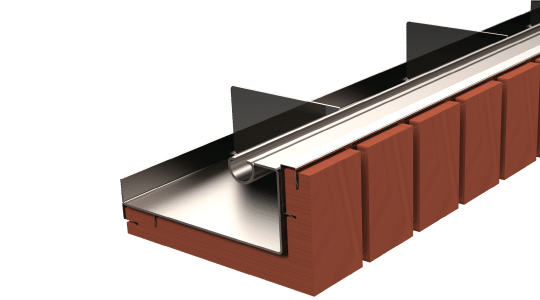 Let's Talk
---
Need help on your next project? Get in touch with our friendly team who'll find you the best solutions and products for your next build.
How can we help?
You might also be interested in...