Apollo II
---
Apollo II is a certified and tested bed joint reinforcement product, designed specifically to increase the flexural and tensile strength of masonry walls.
Manufactured in stainless steel, this high-quality solution allows for maximum coverage, high bond strength, and ultimate peace of mind.
DESIGNED TO BE STRONGER
Apollo II is the masonry reinforcement of choice for major brickwork contractors thanks to two unique design features; the flattened ribbed profile and in-line welded cross wires.
The unique, flattened, and profiled main structural wires help to improve bond performance compared with traditional smooth wires, allowing for maximum coverage and anchorage in use.
The Apollo II's cross wires, which are sized at 2.75mm diameters, are welded in-line to avoid steel build problems and to create a very robust and durable reinforcement strip.
When combined, these unique design features are responsible for the improved performance of Apollo II. The bond strength is up to 90% stronger than others on the market.
COMPREHENSIVE RANGE 
Not only is Apollo II up to 90% stronger than competitor products, but it also comes in a comprehensive range of widths, materials, and sizes too.
Available in 5 different main wire diameters – 3.0, 3.5, 4.0, 4.5, and 5.0 mm
Available in 4 product widths to suit UK brick and block sizes
Supplied in 2.7m long strips with 20 strips per pack
With such a comprehensive range and added benefits, it's no surprise that Apollo II is the chosen product for our major brickwork contractors across the UK.
HIGH QUALITY
When it comes to purchasing masonry reinforcements, high-quality is absolutely ESSENTIAL.
Apollo II is a robust and durable product, meeting the specifications for ancillary components for masonry.
CE Marked in accordance with clause 4:2:2 of the standard. This certified and tested solution allows for maximum coverage, high bond strength, and ultimate peace of mind.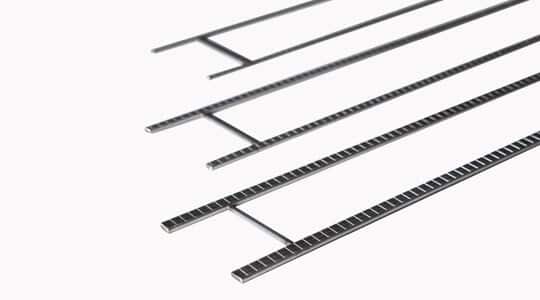 Let's Talk
---
Need help on your next project? Get in touch with our friendly team who'll find you the best solutions and products for your next build.
How can we help?
You might also be interested in...