Adjustable Disc Soffit Support
---
The ACS Adjustable Disc Soffit Support is used to install stonework to the soffit of a concrete structure.
A small expansion anchor can be inserted into a pre-drilled 8mm diameter hole. It can then be hammer set into position using the provided setting tool. The threaded rod can then be screwed into position utilising the anchor's internal thread.
ACS can make the Disk Soffit Support suit any cavity depth. This is possible through the use of different lengths of threaded bar.
The nuts either side of the angle allows the fine-tuning of the position of the angle on site. As a result, this gives the correct cavity between the stone and the concrete structure.
Technical Data
The ACS adjustable Soffit Support is manufactured in grade 304 austenitic stainless steel. Utilising high strength concrete anchors, each disk is capable of taking a design load of 750N. The system has been designed to suit the requirements of Bs 8298 (The design and installation of natural stone cladding and lining) as an effective method of stone fixing and also stone restraint.
A minimum of 4 disk supports will be required per stone to ensure sufficient restraint at a spacing exceeding 90mm between fixings.
Stones must be temporarily propped during installation until the disk is supporting two stones so as to stop any turning forces that may be produced.
Alternative systems for higher design loads can be designed. Please contact ACS for further information.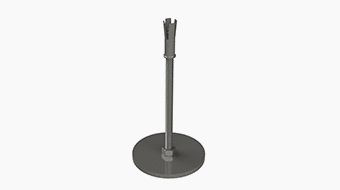 Let's Talk
---
Need help on your next project? Get in touch with our friendly team who'll find you the best solutions and products for your next build.
How can we help?
You might also be interested in...