ACS have been working closely with ROCKWOOL to design a new solution to fix non-combustible insulation to steel frame structures.
ROCKWOOL's Technical Specification Manager, Headley Thompson, worked closely with ACS to develop a fully tested solution that would allow ROCKWOOL RAINSCREEN DUO SLAB® to be used in conjunction with ACS FrameFix™.
ACS FrameFix Solution
Our FrameFix™ Solution provides many installation benefits over other fixing methods; Frame cramps are time-consuming to install and can add unnecessary time and costs onto a build. In addition, FrameFix™ provides the following benefits:
All FrameFix™ solutions are supplied with compression sleeves
FrameFix™ Systems are solid and non-moveable once fixed, assisting with the installation of the insulation and wall ties.
Superior strength compared to other systems not using compression sleeves
Consistent cavity; FrameFix™ ensures your cavity is consistent throughout the build
FrameFix™ Systems protect the insulation from being crushed, this has a detrimental effect on the U-value of the product.
The FrameFix™ System ensures the installation looks neat and tidy, this allows for a proper inspection of the cavity.
This new development allows a masonry wall to be tied to a light steel frame or other structural element through ROCKWOOL stone wool insulation using a suitable fixing. Composite, high compressive capacity sleeves are used at every fixing position to provide a rigid, high capacity fixing detail. The channel is fixed back to the structure via the pre-punched holes in the channel. Once fixed, ACS 25/15 4000 range ties are position at any point along the channel to suit the coursing of the masonry panel.
Why use Compression Sleeves?
Compression sleeves add rigidity to the system. Ensuring fixings are installed correctly and that the mineral wool is not crushed.
Compression sleeves prevent:
Deflection of the facade when a wind load is applied
Crushing of the mineral wool – which affects the U value of the product
An inconsistent cavity, the sleeves ensure the cavity depth is maintained and ensures wall ties are correctly embedded.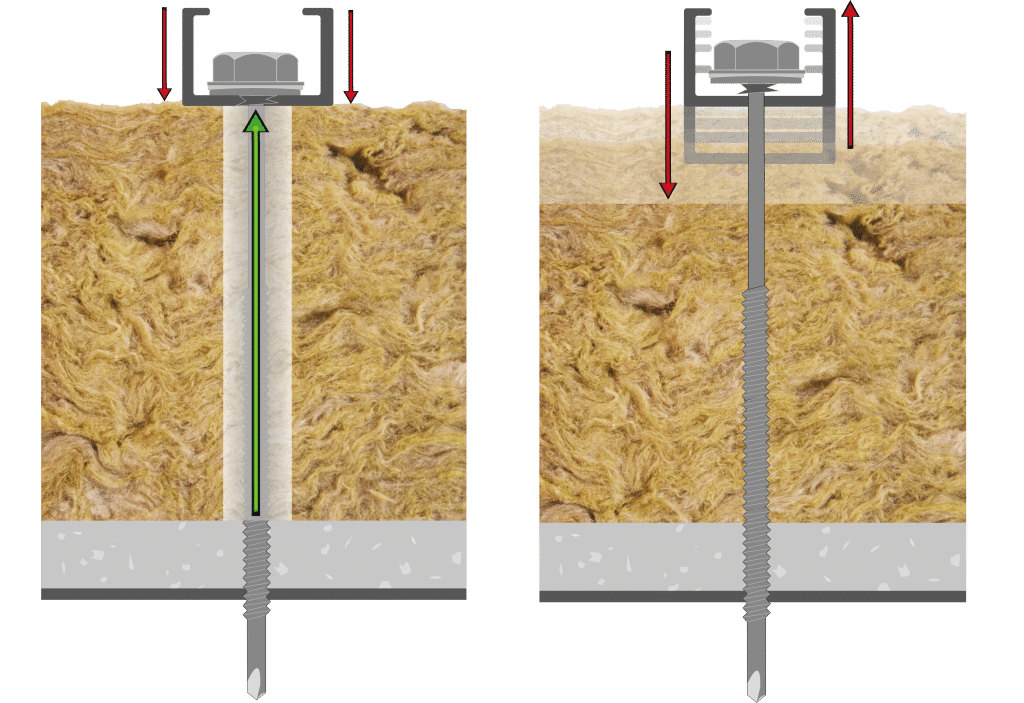 The above diagram demonstrates that with compression sleeves (left) when a load is applied to the channel the sleeve prevents deflection and ensures the pressure is not applied to the Hi Thread of the screw. Whereas the diagram without compression sleeves (Right) shows that when a load is applied to the channel, excessive pressure is applied to the Hi Thread of the fixing, potentially making the system fail by shear which would allow the channel to deflect up and down the length of the plane shank of the screw.
To read the full article published by ROCKWOOL, Click here
Related Articles
---
Article originally published on 26th June 2019