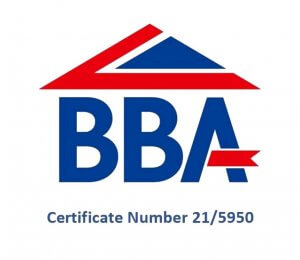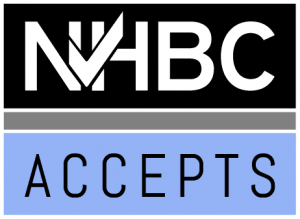 G-Tray™ stainless steel A1 non-combustible cavity tray system has been independently assessed for its thermal conductivity performance by the Building Research Establishment (BRE).
G-Tray thermal conductivity
Established in 1921, the Building Research Institute (BRE) is a world-leading, multi-disciplinary, building science centre with a mission to improve buildings and infrastructure, through research and knowledge generation.
Utilising the latest thermal modelling technology, during an assessment undertaken in compliance with BS EN ISO 10211 the BRE identified ACS Stainless Steel Fixing Ltd's G-Tray – A1 Cavity Tray system as significantly less thermally conductive than a zinc alternative.
During testing the BRE found that one-piece zinc roofing rolls being used as alternative cavity trays (0.6mm) were 286% more thermally conductive than the two-part 0.5mm G-Tray™. 
Thermal Conductivity of materials present in the tests
MATERIAL

THERMAL CONDUCTIVITY (W/MK)

Stainless Steel
17.00a
Zinc
110.0a
Brick
0.770a
Rockwool Duo insulation slab
0.035b
Rockwool SFS insulation
0.034b
Weather defence board
0.250b
Plasterboard/ fireboard
0.250b
(a) = data from BE EN ISO 10456 (b) = data from client / manufacturers
Results of the linear Thermal Bridging assessment
| | | |
| --- | --- | --- |
| | CALCULATED Ψ -VALUE, W/MK | ADDITIONAL HEAT LOSS COMPARED TO 'TYPICAL' 0.5MM SS TRAY |
| 0.5 mm stainless steel 'G' tray (2 part system) | 0.009 | 0% |
| 0.7 mm stainless steel cavity tray | 0.013 | 40% |
| 1.2 mm stainless steel cavity tray | 0.021 | 130% |
| 0.6 mm zinc cavity tray | 0.035 | 286% |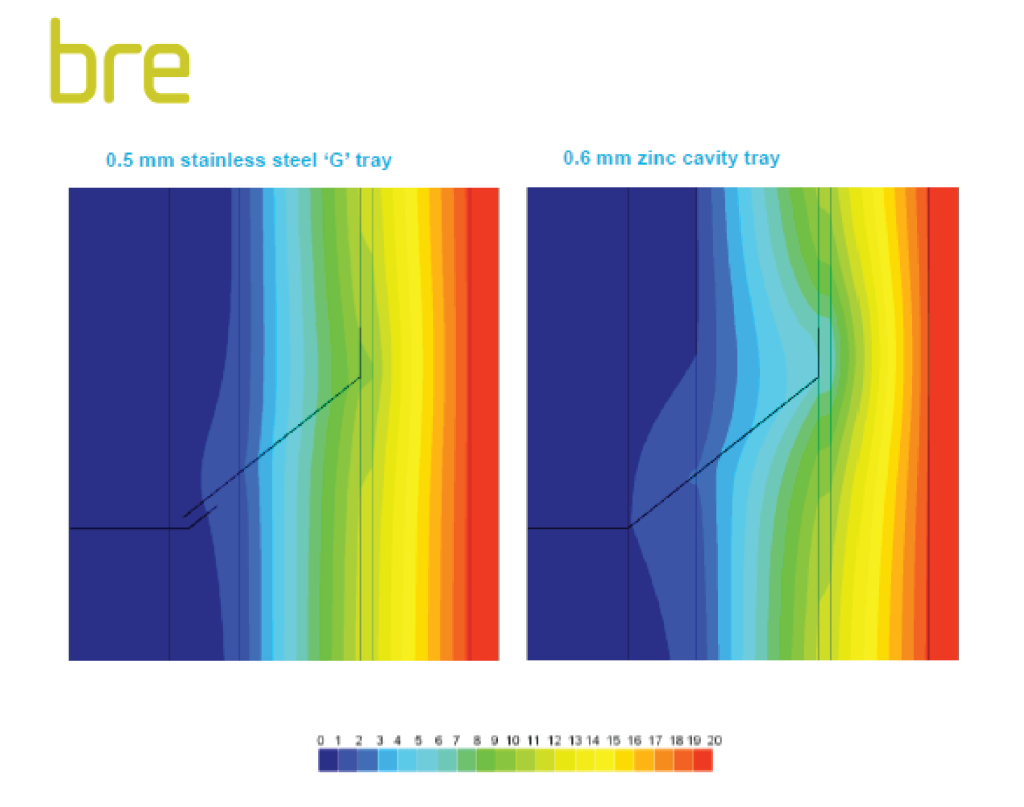 Importance of minimising thermal conductivity
Reducing thermal conductivity between the external facade and the building structure has been a long-standing issue in the design and construction of modern buildings. As the design and use of buildings have changed over the years, its been essential to ensure a good thermal insulation barrier is applied to a building, usually within the cavity. This insulation reduces thermal transfer between the inner and outer leaf of the building. Where heat can be lost from the inside, out, this is described as thermal bridging or cold bridging. If this takes place, a substantial loss of heat can occur and sometimes lead to condensation build-up or mould growth. That's why it's important to select the right products and materials, ensuring the thermal conductivity of these products is as low as possible and thermal breaks are in place to reduce thermal transfer.
A thermal bridging guide produced by the NHBC can be downloaded here
Architects Design – Thermal Conductivity
For years, architects have worked to reduce heat loss from buildings – taking design, structure and aesthetics into consideration. The recent update to building regulation has had a detrimental effect on the potential 'u value' of some buildings, therefore it is essential to specify the right material and system to mitigate thermal transfer as much as possible.
Non combustible Cavity Trays
Following the ban on combustible cavity trays, numerous companies have brought forward speculative solutions. unfortunately, designing and manufacturing a non-combustible cavity tray, whilst taking into other considerations such as thermal bridging, bimetallic corrosion, expansion/contraction and the building variation has made it difficult to achieve such status.
G-Tray™ takes all these factors into consideration, giving you a complete solution which is designed and manufactured to your exact requirements – Much like our industry-leading masonry support systems, precision-engineered for reliable installation.
Related Articles
---
Article originally published on 12th June 2020