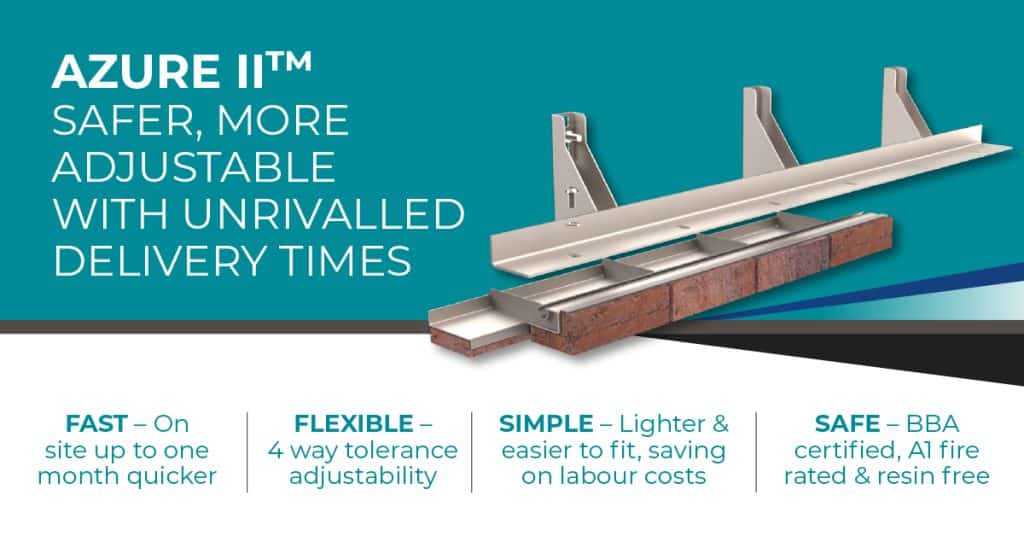 Brick slip systems have changed dramatically over the past few years, and for good reason.
Not only has fire safety become an ever-increasing cause for concern in modern day construction, but health and safety regulations regarding lifting have become tighter too.
So, what did the research and design team do here at ACS? We developed and tested a solution that exceeds the most stringent of industry requirements and is the safest and most adjustable non-combustible brickwork soffit system on the market – the Azure II™.
Fortunately, this market leading quality doesn't come with a compromise on delivery times. In fact, the Azure II™ can be manufactured and delivered to site in just 8 weeks from final approval. Can your current supplier guarantee that?
Why choose the Azure II™ from ACS?
SPEED: Can be on site one month quicker than our nearest competitor, leading to earlier project completion times.
FLEXIBILITY: Fully flexible and adjustable thanks to easily replaceable brick slips with four-way tolerance adjustability.
SIMPLICITY: Lighter and easier to fit, saving you labour and cost on site.
SAFETY: BBA certified, A1 fire rated and resin free. You can rest assured that you are exceeding safety requirements.
Unrivalled lead times
When looking at other soffit and lintel systems on the market, we noticed how many were difficult to manufacture for a number of reasons. Some had several small fixings, whilst others had to be transferred between multiple manufacturers to make up the finished system.
Unsurprisingly, this created long lead times of 12 to 20+ weeks.
By designing and manufacturing the Azure II™ with minimal fixings (all under one roof), we can provide our customers with an unrivalled 8-week turnaround from final approval. That's 4 weeks faster than our nearest competitor and half the time of the industry norm.
In short, we can confidently say that no one can get their brickwork soffit system on site faster than us, a guarantee which saves you time, saves you money, and helps you build a stellar reputation.
The most adjustable solution available
Because the units within the expertly engineered Azure II™ are 100% mechanically fixed and resin free, multiple adjustments can be made quickly and easily on site. This includes:
Adjustable bricks – The brick slips can slide along the carrier unit via a series of grooves, meaning any broken bricks can be easily replaced.
Left to right – The soffit units incorporate the 31/21 Axis Curve Channel, which is welded into the unit, allowing for infinite adjustment longitudinally
Up and down – The system can be adjusted vertically using packers to obtain the required level
In and out – The soffit units can be adjusted horizontally with the use of ACS Masonry Support and slots in the angle.
Unlike with other brickwork soffit systems on the market, the Azure II™'s four-way tolerance adjustability and easy brick slip replacement helps to significantly reduce installation times, labour costs, and even the likelihood of paying for costly remedial work.
Rigorously tested and proven to outperform
Like all industry-leading products that we design and manufacture here at ACS, the Azure II™ has undergone the most rigorous testing in the following key areas:
Combustibility – Classified as A1 non-combustible and certified by the BBA.
Physical performance and long-term durability – Every component within the lintel and bolt up systems has been independently tested and validated by Notified and Technical Approval Bodies.
By choosing the Azure II™, you're not only investing in a system that's safer and easier to install than competitor products, but one that exceeds all existing and future safety requirements.
This drive to go above and beyond for our customers by futureproofing their projects is the very reason why the ACS logo is seen as an indicator of quality by many in the construction industry.
Speak to our team
If you're ready to discover more about the Azure II™, contact our sales department on 0844 850 0860 or email us at info@acsstainless.co.uk.
Article originally published on 22nd June 2022