Details
Details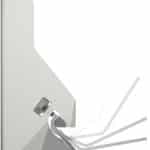 The Atlas 14 Masonry Support System's design allows it to support a masonry load up to 14kN/m**.
It is available for cavities ranging between 60 and 150mm and can fix back to a number of structures using the Atlas range of fixings.
Please see the table below for more details regarding lengths and loads. For further information, such as site installation instructions, please contact our technical team with your specific requirements.
**This reduces when fixed back to 31/21 channel
How the ACS Atlas system works:
Two brackets are installed on the structure***, and the angle platform simply clips onto the front of the bracket within the printed zones.
Finger-tightening of the integrated locking screw on the side of the bracket securely locks the angle in place.
The process can easily be reversed where a different depth bracket is required.
*** 3 Brackets on corner systems
Prepare for the unknown
Unlike bespoke welded support systems, Atlas can be instantly adjusted on site, to meet your requirements.
A co-ordinated range of interchangeable brackets and shims allow the system to be adjusted in 1mm increments. Printed fixed zones on each angle allow for lateral adjustments of 25mm on either side preventing unnecessary drilling. And our unique Alpha Bracket and Washer system offer 5mm more of vertical adjustment than traditional serrated systems. The system also includes a positive lock mechanism which increases load capacity and safeguards against catastrophic failure. This enables fewer brackets to be used and could mean cost savings of 10% on a typical installation.
Easy to specify
Other off-the-shelf support systems often place all the responsibility for design on the client; a daunting prospect for all but the most talented of engineers. With Atlas, you can specify your system online, simply by logging onto our website and following a few basic on-screen instructions. Our unique Atlas specification software will then automatically produce supporting engineering calculations and approval drawings, reducing the time taken to complete the standard manual approval process and removing the risk of error.
Still unsure?
Your ACS Account Manager will happily feed your data in on your behalf and email you your system, drawings, and calculations, within minutes.
Always in stock
Atlas is supplied off-the-shelf from stock, use component parts and is always ready for immediate despatch. This allows you to order components, as and when they are required, and reuse excess items on other projects.
Our technical engineers are on hand to advise you on how to achieve this using the Atlas system.
Please contact us for further information.
Fixing
Min fixing
Min
Min
Max load (kN/m) for various cavity widths
Height (mm)
Edge (mm)
Slab (mm)
60
70
80
90
100
110
120
130
31/21 T Head Bolt
150
75
225
14*
14
14
14
14
13.5
13
12.6
Atlas concrete Anchor
150
90
240
14*
14
14
14
14
14
14
14
Atlas Set Screw
150
–
–
14*
14
14
14
14
14
14
14
Atlas Hollow Fixing
150
–
–
14*
14
14
14
14
14
14
14
* load achieved using 60mm bracket depth within 0mm masonry offset