EVERYTHING WORKS TOGETHER
ACS is a leading manufacturer of structural building components. We specialise in the design and manufacture of Masonry Support, Wall Ties, Channel and Brick Slip Lintel & Soffit Systems.
Established for over 35 years, ACS is the manufacturer of choice for the largest brickwork and subcontractors in the UK. Our brand is synonymous with quality, precision and unrivalled customer service.
Why ACS?
Our products are designed and manufactured in our state-of-the-art facility in Leeds. The whole process is CE rated, ensuring your product meets your exact specification and fully conforms to industry requirements.
Our unprecedented turnaround times are a key factor in specifying ACS. We have the fastest design and drawing times in the industry, so if something changes at the eleventh hour, our in-house team of structural engineers are on hand to re-design to your exact specification.
Our automated manufacturing process means we can manufacture your product faster than any of our competitors, even at full capacity, ACS is still 2-3 times faster than our closest rival.
Single Point of Contact
As ACS manufactures a wide range of products, your account manager will provide information and advice ensuring you make an informed decision when specifying or buying ACS products.
The wide range of products at ACS ensures you can purchase everything you need to support and restrain your façade; making the whole process effortless.
Our dedicated team of knowledgeable experts are available from 7am till 6pm Monday to Friday. After undergoing rigorous training and continual development, your appointed account manager will provide a single point of contact ensuring your enquiry is their number one priority.
WarrAnty
Where applicable, a full warranty is provided for all ACS products. It's important to ensure our products are not used in conjunction with other brands as neither manufacturer will guarantee performance and compatibility. Our products are not tested with competitors products, therefore we cannot guarantee the lifespan of the product, its loading values or performance.
ACS products are fully tested and engineered to the highest quality. We offer a lifetime guarantee on all our stainless products when installed to the required standards.
Tractability
Ensuring you can trace each product within a façade is essential. This allows inspectors to ensure the structure is correctly restrained and in the unfortunate event there is an issue with the building or just the façade, a thorough investigation can take place. All ACS products are fully traceable and warrantied to work together.
Easy Installation
All of our products are designed to work seamlessly together. This allows for easy and methodical installation, saving time and money during the installation phase. As our products are specifically designed to work together, it removes any compatibility issues, guesswork and potentially having to make changes to the products on-site which could compromise their performance and warranty.
Competitively Priced
Need a full masonry support package? No problem! ACS design and manufacture masonry support, fixings, ties and channel. Not only does buying everything from one manufacturer make it easy to control and organise, large orders of our product also allow ACS to competitively price our systems.
In-House Specification, Design and Manufacture
Our qualified Engineers, Designers and Surveyors work with industry bodies to ensure ACS manufactures products to exceed the latest standards and requirements. Our products are manufactured under stringent quality control processes, ensuring the product you receive is guaranteed to perform.
Total Peace of Mind
To summarise, selecting a single manufacturer to design and supply your masonry support, brick soffits, ties and channel provide a huge benefit to contractors and bricklayers.
Single point of contact
Fully warrantied and indemnified – One Façade, one warranty
Fully traceable product
Easy installation – Everything is designed to work together
Competitively priced – Buying from a single manufacturer increases your buying power, enabling ACS to provide exclusive pricing.
In-house design and Manufacture – Fully scrutinised and controlled manufacturing process. Designed to exceed current requirements to ensure performance.
COMMON SENSE, NOT SCARE TACTICS
ACS is committed to our customers, we advise as much as we can to ensure our customers are well informed and protected from future issues we can foresee or potential accidents waiting to happen. We are trusted by our customers and are known for taking safety seriously.
ACS brought about the first safety tie, making dangerous fishtail and butterfly ties obsolete. We have also been recognised by industry-leading insulation manufacturers for our insistence on the use of compression sleeves for facades using compressible mineral wool.
Here are some recent news stories covering brick facade failure:
18th June 2018 – Hendon Facade Collapse
11th March 2019 – Stoke Newington Building Collapse
24th April 2019 – Nottingham Trent University Collapse
11th June 2019 – Walsall Warehouse Fire, Facade Collapse
Although some of the incidents above are of older buildings, it emphasises the requirement for a fully warrantied facade solution. Not only will the correct installation of masonry support and restraint prevent failure during catastrophic events such as fire, but it also protects from age and deterioration.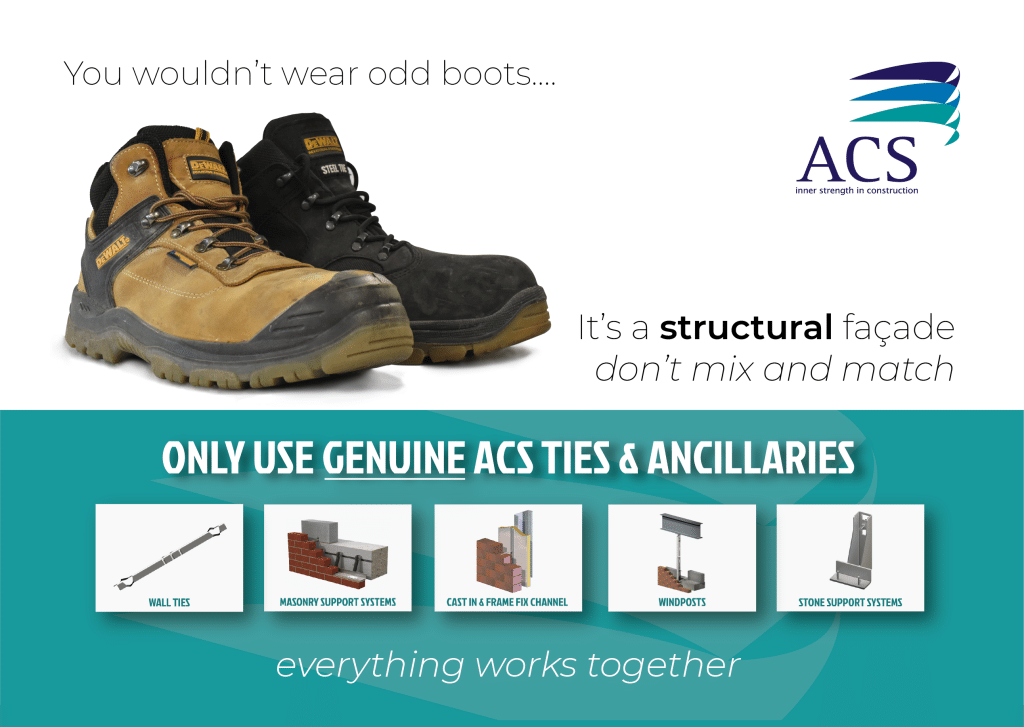 Related Articles
---
Article originally published on 19th June 2019