Overview
Overview
Framefix Compression Sleeve
Mineralwool Insualtion Compression Sleeve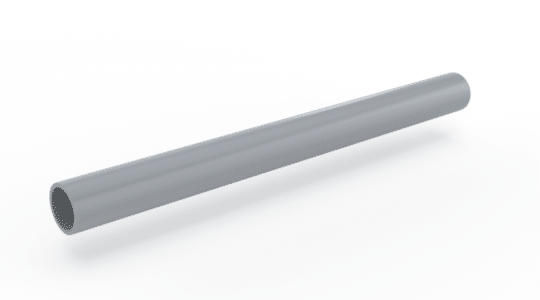 Details
Details
The Mineralwool Framefix Compression Sleeve system is supplied with standoff tubes which correspond to the thickness of the insulation specified. The tubes are designed to ensure that the compressive strength and stability of the channel tie system is achieved and maintained by preventing the channel deflecting into and compressing the insulation during installation and whilst under normal load.
Compressing mineral wool significantly reduces its effectiveness and in turn its 'U' Value. In addition, when channel deflects into the insulation, the cavity depth is inconsistent and can increase in places, this means the channel ties specified may be installed below the recommended embedment depth due to the increase in the size of the cavity.
Technical Data
The ACS Mineralwool Framefix Compression Sleeve is designed to allow an outer leaf of a cavity wall constructed from masonry to be tied to light steel frame or another structural element through mineral wool insulation using suitable fixings.
composite high compressive capacity sleeves are used at every fixing position to provide a rigid, high capacity fixing detail. The sleeves have a class 2 fire resistance to BS476 Part 6. The channel is fixed back to the structure via the pre-punched holes in the channel which are spaced at close centres to allow the fixing point to be selected depending on the application.
Once fixed the ACS 4000 Range Channel Ties can be positioned at any point along the channel to suit the coursing of the masonry.
Installation & Best Practice
The channel is typically fixed back to the SSF/Studwork through mineral wool insulation and CP board. Each fixing requires a compression sleeve to be pushed through the insulation to bear onto the CP board and studwork behind. Fixings can then be installed through channel and sleeves and driven into the SFS studs. Studs are normally set at 600mm horizontal centres. Ties can then be positioned at any point along the channel length to suit the bed joint coursing at the required vertical centres. (Tech screw lengths table)
 Tech Screw Length Table
| | |
| --- | --- |
|  Insulation Thickness (mm) |  Screw Length (mm) |
|  75 |  105 |
|  100 |  130 |
|  125 |  150 |
|  150 |  150 |
Fixing Screws
The ACS Mineralwool Framefix Channel standard configuration is designed to fix back to the studwork at 450mm vertical centres. The pre-punched holes in the rear of the channel are spaced at 112.5mm centres so a fixing can always be positioned near to the end of the channel and the fixing centres can be varied to increase or reduce the load capacity as required (See Table 1.0). Self-tapping screws can be supplied to accommodate fixing through mineral wool insulation of up to 150mm as standard. Other lengths are available upon request.
ACS recommends the use of stainless steel screws for fixing the channel back to the studwork. Isolated galvanised screws can also be provided on request.
System Performance
The table below provides wall tie type performance values fro PD 6697 based on standard stud centres of 600mm.
| | | | | |
| --- | --- | --- | --- | --- |
|  Panel Required Type (PD6697) |  Wall Tie Vertical CTRS (mm) | Fixing Vertical CTRS (mm) | Panel Unfactored Design Resistance (kN/m2) | Panel Factored Design Resistance (kN/m2) |
|  Type 1 |  300 | 337.5 |  2.27 | 3.41 |
|  Type 2 |  450 | 337.5 |  1.51 | 2.27 |
|  Type 3 |  450 | 450 |  0.91 | 1.37 |