Overview
Overview
ACS Compression Strut
A wide range of Tension Systems & Compression Struts are available - speak to our technical department for assistance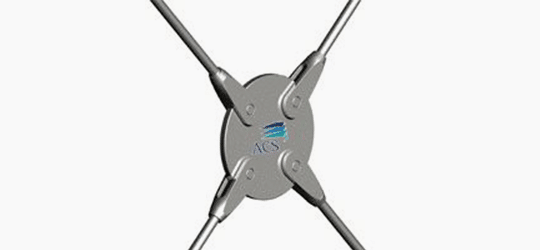 Details
Details
The ACS Standard Compression Strut provides the same compressive capacities as the architectural system, however the formal appearance of this strut, has a shorter taper cone and no locking cover.
ACS Compression Struts utilise standard ACS Tension 520 fork end fittings and pin sets. These connect to the CHS (circular hollow sections) by a taper cone and threaded stud.
The DIBT (Deutches Institut fiir Bautechnik) in Germany have approved the ACS Compression Strut system, therefore proving quality you can trust.
For further information, please contact the ACS technical department.
Corrosion Protection
ACS tendons can be supplied in Stainless Steel or with a blank, primed, painted or dip galvanised finish.
Tolerances and Adjustments
The cutting tolerance for CHS is +/-3mm
M10 to M56 +/- Vz thread diameter
M64 to M100 +/- 25mm
For full details of dimensions, design and specification of the architectural and standard compression strut system please contact out technical department.